When it comes to WordPress Hosting we always search for best, cheap and powerful hosting providers. There are plenty Of companies providing wordpress hosting. In This article, We are going to give a brief comparison between Top 5 Best WordPress Hosting Providers In 2021.
Before moving to the main topic lets know the basic first.
What Is Hosting?
If we say in simple language a hosting is the space where we can save our files related to website, blogs, apps etc. For making an website or blog hosting is must needed. Without hosting we can't even think about making a blog.
There are many types of hosting provided by companies to their customer. You can choose one of those as per your requirement.
The types of hostings are shared hosting, cloud hosting, vps hosting, dedicated server, wordpress hosting.
But in this article, we are only focusing on wordpress hosting.
What Is WordPress Hosting?
Before moving to wordpress hosting first know what is wordpress. WordPress is a very famous and online website creation tool. It is completely open source designed with php language.
As the name says wordpress hosting is the hosting plan specially designed for wordpress. Its provides batter security, high speed, on time wordpress updates. In this plan, you will get regular backup facility.
There are hundreds of wordpress hosting providers across the world. Choosing the best among them is realy a tough task.
But don't worry, we are here to guide you on choosing best wordpress hosting among those providers.
Types Of WordPress Hosting
Basically, there are two types of wordpress hosting: traditional and managed
In traditional wordpress hosting the provider gives you somes space in a server that is shared to many people. The hosting provider only provides you the server space.
You have to do all the work manually such as
Manually set the hosting
Installing wordpress
Transfer old website to new server
You have to update your installed plugin manually
Taking backup of your site
Manually check your site for any malware affection or hacking attempts.
Handling traffic
What is managed wordpress hosting
As like traditional or shared wordpress hosting, we have discussed above managed wordpress hosting is fully opposite.
Here you don't need to do all the task such as setup hosting, installing wordpress manually. The hosting provider do it for you. You only need to focus on your content writing.
That's the beauty of managed wordpress hosting.
Do you need a managed wordpress hosting
Its completly depends on you. If you are new to blogging or if your blog or website gets low traffic, go with shared hosting.
In the other hand if you want to make your blog or site smooth and super fast choose managed hosting. There are many wordpress hosting providers provides specific hosting.
All the important work such as installing wordpress, regular updates, backups, security checks are done by the hosting providers.
How To Choose Best and Cheap WordPress Hosting Provider
There are a lot to check before choosing a hosting. As the web hosting plays an important role in ranking on search engine. I always prefer you to research well before choosing web hosting.
Choosing a perfect wordpress hosting for an website is as important as choosing right diet for your body. The best you choose the more result you get.
Before selecting a web hosting you have to check below.
Price of the hosting
Customer support
Regular backup
Simple setup interface
Security updates
Speed
Do you think that you need all of them? Don't worry i have selected 7 best web hosting provider based on there features.
Is there wordpress pre-installed for you?
Automatic regular backups.
Automatic wordpress updates to ensure that you site is always updated.
24/7 security monitoring service for malware infections to prevent your site from hackers.
Specific webservers designed to manage and run wordpress smoothly.
The most important is customer support. Always ready to help 24/7.
2021's Best WordPress Hosting Providers
As we said above there are tons of hosting providers across the globe to manage wordpress smoothly. All those wordpress hosting providers have different plan and pricing.
We will tell you how to choose the best and cheap wordpress hosting plan from those providers. If you are a newbie read this complete article.
In this article, we have discussed best and cheap 7 wordpress hosting providers. If you don't have much time to read this complete article just follow this quick compairsion below.
| | | | | |
| --- | --- | --- | --- | --- |
| HOST NAME | COST $ PM | SUPPORT | UPTIME | LOAD TIME |
| Bluehost | $3.95 | 10/10 | 99.99% | 125ms |
| WP Engine | $25 | 10/10 | 99.97% | 419ms |
| Hostinger | $0.90 | 10/10 | 99.99% | 714ms |
| Flywheel | $13 | 09/10 | 99.98% | 430ms |
| A2 Hosting | $2.99 | 10/10 | 99.91% | 377ms |
Hope this above table helped you. If you still want to know more read this complete article
#01 Bluehost
When we talk about web hosting bluehost comes first in our mind. Bluehost is one of the best hosting provider for wordpress. WordPress officially recommends bluehost hosting.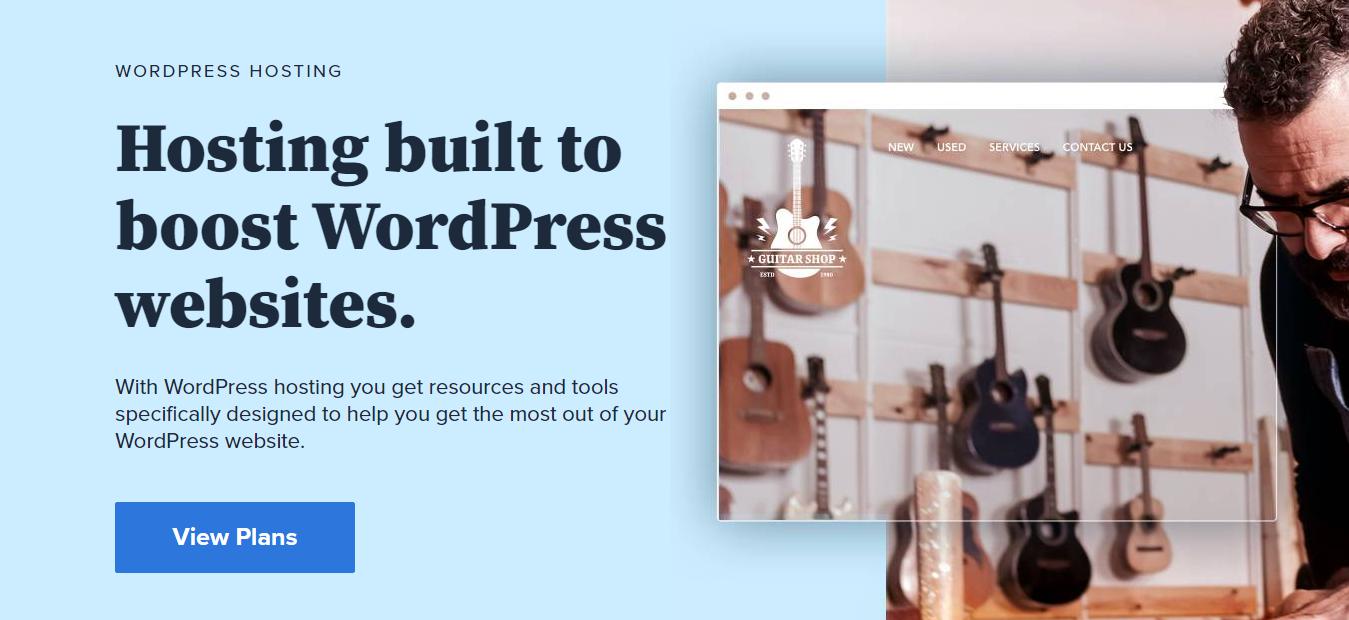 There are two types of wordpress hosting plan bluehost provides.
Shared wordpress hosting
Wp pro managed wordpress hosting
01 Shared wordpress hosting
This is the most popular wordpress hosting plan provided by bluehost. If you are new to blogging field it is best for you.
It is very fast and easy to use and manage. It includes wordpress with the hosting. You don't need to install it manually. Also, you will get free ssl certificate with this plan.
Bluehost also provides free domain name registration for first year. You can start building your site just starting from $3.95/month(check before you buy).
You can check all about the plan details below.
Basic plan
You can host only 1 website
Also, get free ssl certificate
You, will, get 50 gb ssd storage
Free domain for 1 year
You can use 5 parked domains
Also, connect 25 subdomains with main domain
$200 marketing credit bonus
Plus plan
You can host unlimited websites
Also, get free ssl certificate
Unmetered ssd storage for your blog
Free domain for 1 year
Park unlimited domains with this plan
You can connect unlimited subdomains
$200 marketing credit bonus
1 Microsoft 365 Mailbox – Free 30 Days
Choice plus plan
Unlimited websites in this plan
Free ssl certificate for your blog
Also, get unmetered ssd storage
Free domain for 1 year
Also, get unlimited parked domains
Unlimited subdomains can be connected
$200 marketing credit bonus
You can also get, codeguard basic backup
1 Microsoft 365 Mailbox – Free 30 Days
**** price of the plan may varie time to time. Please check before buy.